Zen Habits
Zen Habits, created and largely written by top blogger Leo Babauta, is about finding simplicity in the daily chaos of our lives. It's about clearing the clutter so we can focus on what's important, create something amazing, find happiness.
It also happens to be one of the Top 25 blogs in the world, with about 200,000 readers, and is uncopyrighted.
Zen Habits features one or two powerful articles a week on: simplicity, health & fitness, motivation and inspiration, frugality, family life, happiness, goals, getting great things done, and living in the moment.
In my opinion, Leo's blog and supporting e-books, courses and other resources offer fantastic support for the practicalities of daily living in a mindful, conscious way.
Leo has written a number of excellent e-books, some of which are featured below, and which I highly recommend:
---
The Essential Motivation Handbook


Do you want to increase your self motivation? For that, a guide I highly recommend is The Essential Motivation Handbook by Leo Babauta.
It's a 112-page e-book that gives you practical advice in 25 short sections. Here are some of them:
The Only Two Secrets to Motivating Yourself You'll Ever Need

A Guide to Beating the Fears That Are Holding You Back

Top 20 Motivation Hacks

25 Killer Actions to Boost Your Self-Confidence

16 Ways to Motivate Yourself When You're in a Slump

30 Incredible Places to Turn When You Need Inspiration

How to Doggedly Pursue Your Dreams in the Face of Naysayers

The Yin And Yang Of Persistence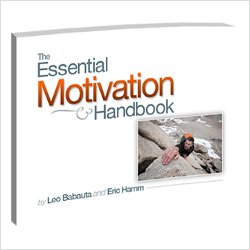 You can find more information here.
---
The Simple Guide to a Minimalist Life
Click here to view more details
---
Zen Habits Handbook for Life
Click here to view more details
---
Zen To Done e-book
Click here to view more details
---