How To Stay Connected To Your True Source Of Power
Depiction of the Battle of Eben-Ezer from the Dura-Europos synagogue (pre-244 AD)


The Israeli town of Kafr Qasim is a hill-top city with an Arab population of about 25,000 residents and is located approximately 12 miles east of Tel Aviv on the Israeli side of the border with the West Bank. In modern times it is tragically remembered as the site of the Kafr Qasim massacre, when Israel Border Police killed 49 civilians on 29th October 1956.

A present day mythic truth from an ancient story

Approximately 2,500 years ago the settlement was close to the site of two battles between the ancient Israelis and their neighbours and enemies the Philistines, a war-like people said to have originally migrated from Crete.

According to the book of Samuel in the Nevi'im (the book of Prophets in Judiasm and the Old Testament in the Christian bible) the Israelis lost heavily in both battles. It is recorded as 4,000 deaths in the first battle and 30,000 deaths in the second battle. Not only did they lose soldiers they also lost territory and the Philistines occupied many of the Israeli border towns.

After about 20 years, pressure built to the point where the Israelis wanted to initiate military action to retake those territories and break free from the oppression of Philistine occupation. They approached their spiritual leader the prophet Samuel and asked for his advice and support.

The cultural and religious background to this was that the Israelis had a deeply ingrained ethnocentrism believing themselves to be their god JWHW's (Yaweh or Jehovah in modern translation) "chosen people" tasked with spreading the message of monotheism.

But in preceding years they had moved away from JWHW and were worshipping other foreign gods and idols. However, Judaism forbids idolatry, in all its forms, both then and now. Thus their two major defeats by the Philistines came to be recognised as a withdrawal of JHWH's support because of this.

Samuel called a meeting of the Israeli leaders and told them:

"If you are returning to the LORD with all your hearts, then rid yourselves of the foreign gods and the Ashtoreths (goddesses) and commit yourselves to the LORD and serve him only, and he will deliver you out of the hand of the Philistines."

Reconnecting to the true source of power

The Israeli leaders debated this amongst themselves and decided that they would drop their worship of foreign gods and worship only the Israeli god YHWH.

In the ensuing battle the Israelis prevailed and the Philistines were decisively defeated. Following this the Israelis reclaimed their occupied towns and secured their border and lived in peace for many years thereafter.

Raising the stone of help

After the battle, Samuel the prophet went to the settlement where the Israelis spent the night before the battle and erected a stone monument and called it "Ebenezer" which means in Hebrew "Stone Of Help".

He did this as a permanent reminder to the Israelis to stay faithful to YHWH the one true source of their strength and victory. In modern framing:


So What's The Point Of This Story And How Does This Apply To Me?
To understand the personal significance and application of this story here are four pointers to help understand the context:
(1)
We live in an
energetic universe
. This perspective is science based and proven.
(2)
We also live in a
participatory universe
. This perspective is supported by science but not yet fully proven by science.
(3)
We are
energetic beings
. Our energetic state has a significant impact on the life experiences we create and attract.
(4)
There are
3 levels to the mind
:
- the subconscious mind which we can think of as the BIOS;
- the conscious mind (including the ego) which can be thought of the operating system (our own inner "Windows 10"); and
- the superconscious mind also referred to as the higher self which we can think of as our own personal portal to the energy of life i.e. everything going on
"out there"
.
Where It All Goes Horribly Wrong
To quote from an earlier article
Living With Your Thoughts
:
"Given that we are fundamentally energetic beings existing in an energetic universe we need to understand, relate to and work with our higher self. It is the portal to, in the conventional sense, everything
"out there"
.

However, 'Windows 10' (the ego) is not an energetic being but it thinks it is! Its sphere of operation is defined by our sensory perceptions. For 'Windows 10' seeing is believing. Because its role is to control it thinks it does - or should - control everything.

This is, of course, a major delusion and is where the whole teaching in mainstream belief systems of
"dying to the self"
or
"dropping the self"
comes into play."
In the historical period of these ancient Israelis, and in common with the later monotheistic belief traditions, the realm of the spiritual dimension was seen as distant, other and outside of the self (using the word self in the modern understanding of the whole self).
In keeping with their belief system, the ancient Israeli's viewed themselves as JHWH's chosen people, and JHWH was their source of guidance and power. So when they disconnected from this source and engaged with the false gods and goddesses (what to the modern view we would see as the preoccupations and projections of the egoic mind) they failed.
When we do likewise, and deny or ignore our spiritual or energetic nature, step out of alignment, and follow our egos, we too will ultimately fail.
This is the present day mythic truth drawn from this ancient story
Creating Your Own
"Stones Of Help"
Unlike the ancient Israelis our battles are more likely to be internal battles with our negative thoughts and the associated negative energetic states.
These thoughts stem from the older part of our brains that generate the flight/fight response, and that host our more basic or animal nature, and from conditioning - courtesy of the dominant adult figures in our lives when we were younger.
In adulthood we are all influenced by the zeitgeist, the media in general and for younger people by social media in particular.
To counter the effects of these negative influences takes time and more importantly effort.
We are talking quite literally about a renewal of our minds. Think of this as re-wiring of our brain. This is why meditation is spoken of as a
practice
.
The purpose of your creating
"stones of help"
is to enable multiple points of contact with these reminders throughout the day and, over time, reinforcing these truths in your mind.
To aid your practice I offer the following
"stones of help"
that I have created and that I use:
# Collection of phrases, sutras and verses that have deep personal energetic resonance
- These can be drawn from many different sources. The key thing is that speak to you.
- I hold a file of these phrases on my laptop as screensavers which change at preset intervals.
- I hold a file of these phrases on my phone which I can read when I am out walking and taking a break.
- I have a paper copy of these beside my bed which I read before I go to sleep at night and in the night if I wake up.
# A powerful visual image that has deep personal energetic resonance
- I have a picture of a man in a chariot which has a powerful and personal symbolic meaning for me.
- I have that picture on my laptop as a screen saver.
- I have a picture of this image mounted and framed and hanging on my kitchen wall.
- I even have a mug with this image on it!
# A gratitude box
- This was something that a friend made and gave me containing 60 little hand-made notes of personal things for which I am grateful.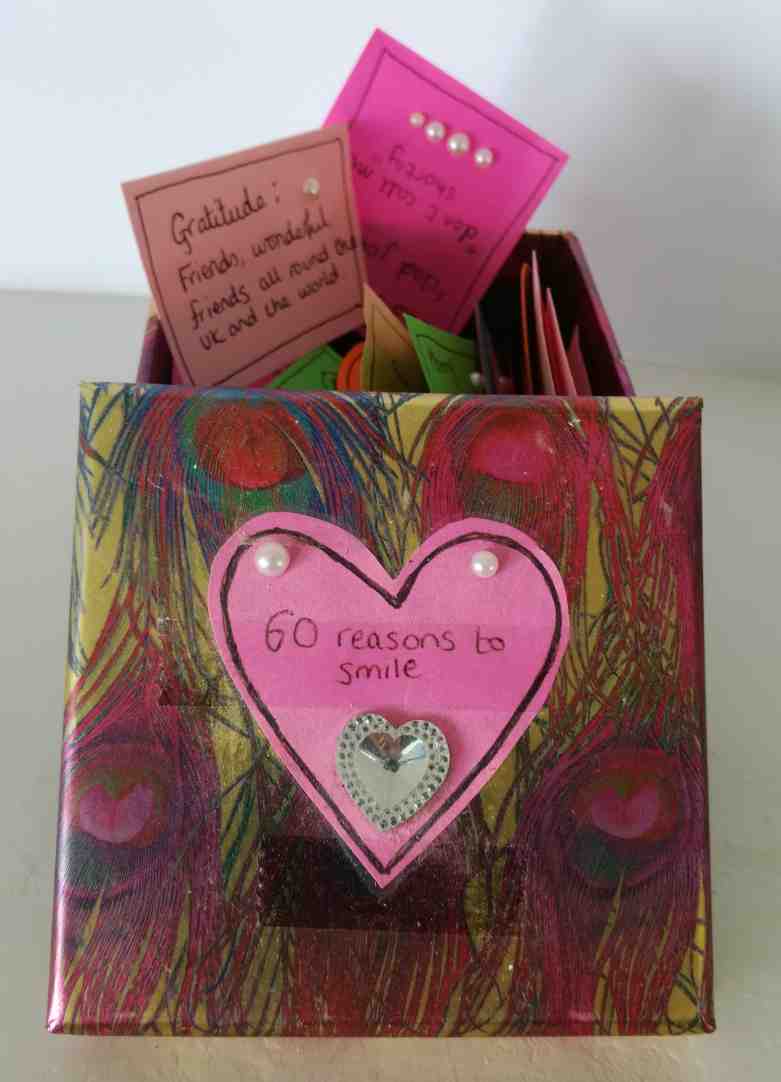 "Out Of The Mountain Of Despair, A Stone Of Hope"

(Martin Luther King)
---
Return to:
What Is Spirituality?
Contact me
---