Mental Models
Mental Models Help You Think Effectively
A Mental Model Is A High Level Overview Of How Something Works
Mental Models - Overview
Mental models are high level representations of how thing work.
They help you think effectively and thus are fully aligned with the objectives and purpose of this site.
According to Charlie Munger:
Munger is referring here to mental models.
Two broad categories of mental models that are particularly useful are those that help us understand how:
[1] The world works and thus to predict the future.
[2] To see connections and opportunities

Our world is multi-dimensional and our problems are complex. Most problems cannot be solved using one model alone, thus it follows that the more models you have in the toolkit, the better equipped you will be to solve your problems because you can look at the problem from a variety of perspectives and increase the odds that you will come to a better solution.
But if you don't have the models, you become the proverbial man with a hammer to whom every problem looks like a nail.
Another important consideration is how you prioritise your learning. Trying to keep up-to-date with all the latest information will lead to us chasing our tails, therefore Charlie Munger says that we should focus on things that change slowly:

---
Latticework Of Mental Models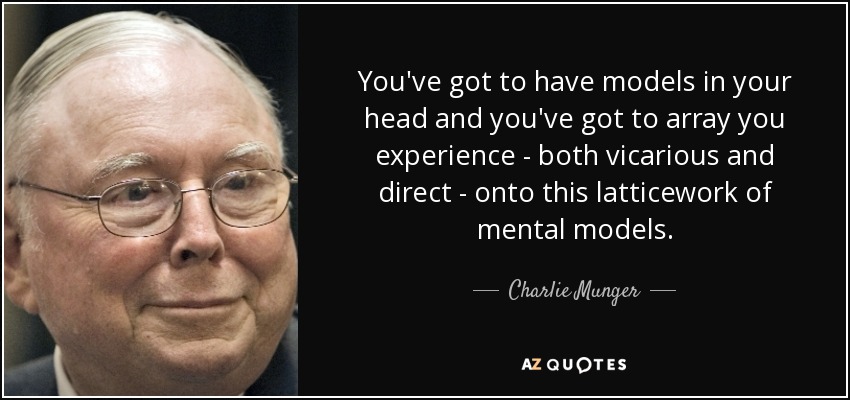 Since it is impossible to keep all of the details of all of the information that you absorb in your brain, you use models to simplify the complex into understandable and organisable chunks.

Mental models shape how you reason and how you understand, and they also shape the connections and opportunities that you see, and also why you consider some things more relevant than others.

The quality of your thinking processes is proportional to the models in your head and their applicability to the situation under consideration.

The more models you have the better quality will be your thinking processes and decision making ability, however most people are specialists.



Many people know a little about a little.
Most people with training and skills in a particular discipline or scope of proficiency know a lot about a little.
The person with a latticework of mental models knows a little about a lot.
The serious thinker has a latticework of mental models that enable him/her to know a lot about a lot.
"You don't have to know everything. A few really big ideas carry most of the freight."
"It's kind of fun to sit there and out-think people who are way smarter than you are because you've trained yourself to be more objective and more multidisciplinary. Furthermore, there is a lot of money in it, as I can testify from my own personal experience."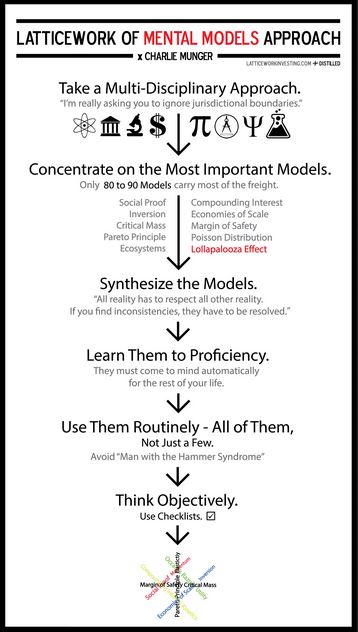 Charlie Munger: Adding Mental Tools to Your Toolbox
---
How To Prioritise Learning Mental Models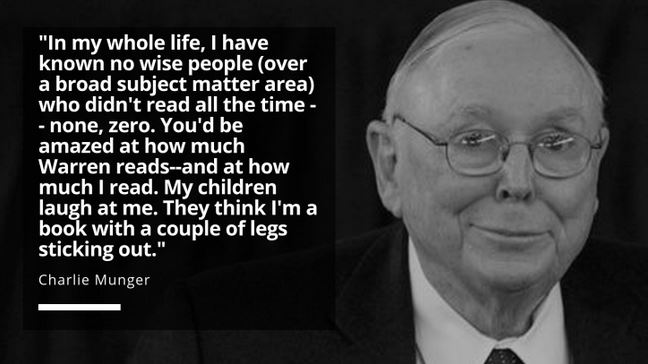 Get back to basics.  Understanding a simple idea deeply, creates more lasting knowledge and builds a solid foundation for complex ideas later.
Build your foundation. Take the time to do a Feynman One Pager on an idea you think you know really well. While easy, this process will reveal any gaps you have in your knowledge.
The multidisciplinary mind understands the basic ideas. You don't need to understand the latest study in biology, but you sure as heck better understand the concept of evolution because it applies to so much more than animals.
Understanding the basics allows us to predict what matters. Put simply, people who understand the basics are better at understanding second and subsequent order consequences.
What has been will continue to be. The longer a technology lives, the longer it can be expected to live.
Time can predict value. While produce and humans have a mathematical life expectancy that decreases with each day, some things, like books, increase in life expectancy with each passing day.
Further reading:
In the words of Charlie Munger:
---
How Do Mental Models Align With The Themes Of This Site?
The purpose of this site is to show you how to cope in tough times, and to provide you with the tools to do this successfully. Mental models are an integral part of all this. Here is how it all hangs together.




---
FULL LISTING - Mental Models



Mental Models: The Best Way to Make Intelligent Decisions (109 Models Explained)




---
Mental Models - Resources






Mental Models - General Thinking Concepts

What Is Truth - How To Tell A Partial Truth From The Whole Truth?

Iatrogenics - "Do Something Syndrome"

How To Make Better Decisions - By Avoiding The Narrative Trap




Mental Models - Human Nature




Mental Models - Productive Thinking

Applied Rationality and The Scout Mindset


Less Is More - Subtractive Solutions

The Challenges Of The Road Less Traveled




Mental Models - Physics, Chemistry & Biology



Mental Models - Systems


Mental Models - Numeracy







---





Food For Thought: Using Models to Stay Calm in Charged Situations



Return from "Mental Models" to: How To Think