Pomodoro Technique

Firewall Your Focus By "Time-Boxing" Tasks
What Is The Pomodoro Technique?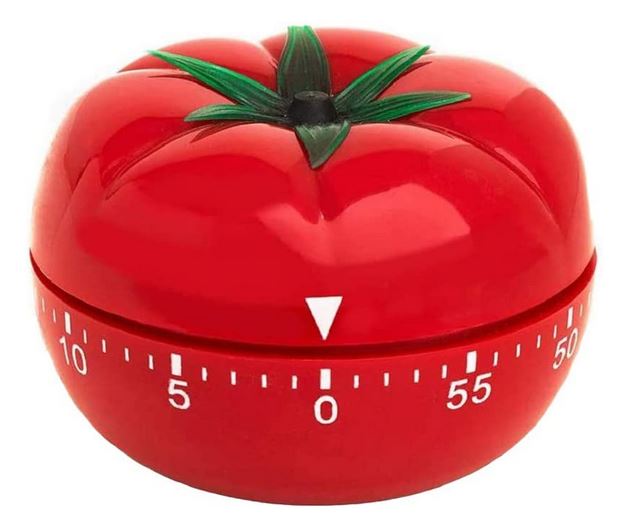 The Pomodoro Technique is a simple method of "time-boxing", which is where you allocate a fixed period of time to a planned activity.
The word pomodoro is the Italian word for tomato and and the time interval comes from the Pomodoro kitchen timer, which is shaped like a tomato.
The concept was created by Francesco Cirillo, now a consultant specialising in improving productivity and efficiency, and time management.
---
The discipline of time-boxing is helpful because it puts a finite limit on an activity and forces you to stop for a break when the preset time period is reached.

The basic premise of the Pomodoro Technique is to firewall your attention and focus for a small amount of time for doing your most productive work, and then mentally recharge after each interval of work.
The Pomodoro Technique works in 25-minute intervals. It is recommended that you work in blocks of 4 pomodoros. Once you get into the habit of working this way you can increase the time intervals to say 45 or 90 mins. To get started, all you need is a timer (also referred to as a Pomodoro) for this technique to work. Here are the steps:
 

   Identify what the task at hand is.

    Set your Pomodoro to 25 minutes.

    Work on the task until the Pomodoro is over.

    Take a 5-minute break.

    For every four Pomodoros take a longer break (15-20 mins)
That is all there is to it! So once you have established your task, set the timer for 25 mins and focus totally and exclusively on that task, and then take a short 5 minute break at the end of that period.

By setting this time constraint, many people find it liberating to know that they can focus on just one thing and then do other stuff once the fixed time period is over.
What Cirillo discovered was that having completed a (small) chunk of work, you start to build momentum, you feel more productive and this in turn leads to an accelerator effect as you get increasing amounts of the larger task completed.
This technique is particularly useful for getting started on a large task.

It is also a good way of overcoming procrastination.

So often it's the initial resistance that's holding you back but once you get past that, it becomes easier to complete your task.

Apparently, people with ADD/ADHD find this technique very powerful.
Download Resource: Ebook by Francisco Cirillo
---
My Experiences With Time-Boxing

Going To The Gym

I only recently became aware of the pomodoro technique, but I am familiar with the idea of time-boxing and some years ago I devised a simple technique to make it easier for me to go to the gym several times a week.
Whilst I totally and genuinely  bought in to the need for regular exercise and obvious benefits, I found it hard to maintain the commitment to go to the gym regularly.
The issue was time and way in which my mind used the pressure of time as an unconscious trigger to my resistance to making the effort to go to the gym.

Like most busy people I always have a lot to do, and if I am not careful a pressure of competing commitments that can stop me fulfilling some of those commitments.
The way this issue framed itself in my mind was the overwhelm of the sheer hassle and palaver of having to pack a kit bag, get down to the gym, spend 60-90 minute doing my exercises and weights, then the showering, changing and returning home - about 2 hours altogether. This routine was fine if/when I had little else to do, but it just didn't work when I was busy.
So inevitably I would postpone going to the gym because I didn't have time, and at the end of the month I would realise that I hadn't been to the gym more than once or twice.
So, I decided to "stream-line" my visits to the gym by changing and showering at home rather than at the gym. That worked to a point but not enough.
Next I decided that it was better to go to the gym for only 15-20 minutes 4 or 5 times a week rather than not at all. So I made a commitment to myself to just do these short sessions which I built around a number of core exercises and routines that gave best return on effort expended.

This worked well, and by month's end my gym attendance increased from about 60-90 mins [one visit] to about 300 mins/5 hours a month.
Clearly I am not an Olympic athlete, but this level of gym activity together with walking and other exercise has proved sufficient to keep me healthy.
---
---
How Does The "Pomoduro Technique" Align With The Themes Of This Site?
Here are a number of touch points:
---
Return to: How To Think