The One Thing

The Power Of Focused Attention
The Surprisingly Simple Truth Behind Extraordinary Results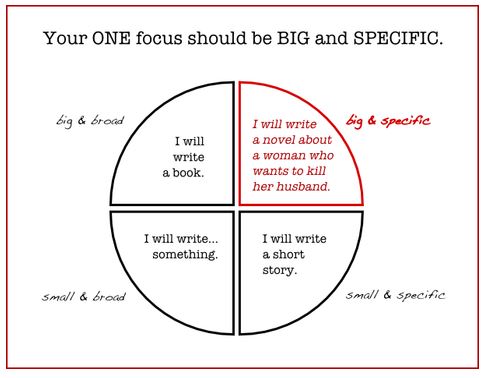 What Is The One Thing?
The One Thing is a process for:
Focusing your attention and your actions on the achievement of  the one big thing you want to achieve.
Narrowing your present focus down to the one next step you must take to progress you towards that one big thing.
The One Thing is a book, supported by training and resources, co-written by Gary Keller who is the founder and chairman of Keller Williams Realty, the world's largest real estate franchise,  and a coach and keynote speaker.
---
Summary of Key Theme

The ONE Thing is the best approach to getting what you want.
Success is a result of narrowing your concentration to one thing.
Success is built sequentially, one thing at a time.

5 Key Points

Not everything matters equally
Multitasking is a lie
Discipline is a result of habit
Willpower is a finite resource
Big is bad is a lie
---
---
The One Thing - [1] Not everything matters equally
"The things which are most important don't always scream the loudest."
Without  a clear sense of focus on the one big thing that we are working to achieve many things can feel urgent and important, and everything seems equal.
Activity and being busy is not the productive unless it is undertaken from a clear sense of priority.

"Achievers always work from a clear sense of priority."


Extraordinary results are disproportionately created by fewer actions than you may realize.
There will always be just a few things that matter more than the rest, and out of those, one will matter most.


Doing the immediate one most important thing is always the most important thing.
---
The One Thing - [2] Multitasking is a lie
"It's not that we have too little time to do all the things we need to do, it's that we feel the need to do too many things in the time we have."

According to Keller, research estimates that workers are interrupted every 11 minutes and then spend almost a third of their day recovering from these distractions. It is also estimated that you lose 28 percent of your average working day to ineffectiveness caused by multitasking.

When you switch from one task to another it causes a drag on your attention because you have to activate the steps for whatever it is you are switching to. This causes an "attention deficit".

"Multitasking involves task switching which exacts a cost you may not realize that you are paying."
Yes of course you can do two things at once, but you can't focus effectively on two things at once.
Every time you multitask you are dividing your focus and diminishing all of the outcomes.
---
The One Thing - [3] Discipline is a result of habit
"Success is about doing the one right thing, not about doing everything right."

Success is fueled by discipline just long enough for the habit to kick in and take over.
The key to success is to choose the right habit and bring just enough discipline to establish it.
When you do the right thing, it can liberate you from having to monitor everything.

Those with the right habits seem to do better than others.

They're doing the most important thing regularly and, as a result, everything else is easier.
---
The One Thing - [4] Willpower is a finite resource
"Make doing what matters most a priority when your willpower is its highest."

If you want to get the most out of your day, do your one thing first thing, when your willpower is at its strongest.

Willpower is not always "on call".
The more you have to consciously use your mind to direct will, the less mind power you have.
Prioritise your willpower for the one thing.
---
The One Thing - [5] Big is bad is a lie
"When big is believed to be bad, small thinking rules the day and big never sees the light of it."

No one knows their ultimate ceiling for achievement, so worrying about it is a waste of time.

When you allow yourself to accept that big is about who you can become, you look at it differently.
Believing that you can be big frees you to ask different questions, follow different paths, and try new things.
The actions that stem from thinking big become the  springboards to succeeding big.
Only living big will let you experience your true life and work potential.
"The key to success isn't in all the things we do but in the handful of things we do well."
Success comes down to being appropriate in the moments of your life.
If you can honestly say, "This is where I'm meant to be right now, doing exactly what I'm doing," then all the amazing possibilities for your life become possible.




---
Resources: Gary Keller's Free Resources
---
How Does "The One Thing" Align With The Themes Of This Site?
Here are a number of touch points:
---
Return to: How To Think