How To Win Without Succeeding By Avoiding Losing
"Amateurs win the game when their opponent loses points, experts win the game by gaining points. " [Shane Parrish]
Simon Ramo, a scientist and statistician, wrote a fascinating little book in the 1970s: Extraordinary Tennis Ordinary Players.
Ramo identifies the crucial difference between the winner's game and a loser's game.
In his essay, The Loser's Game, and referencing Ramo's work, Charles Ellis calls professional tennis a "Winner's Game." While there is some degree of skill and luck involved, the game is generally determined by the actions of the winner
Amateur tennis is an entirely different game. Not in how it is played or the rules but, rather, in how it's won. Long and powerful rallies are generally a thing of the past. Mistakes are frequent. Balls are constantly hit into nets or out of bounds. Double faults are nearly as common as faults.
Over many years' of observation and analysis Ramo had concluded that there were 2 games of tennis. One game is played by the professionals and the other is played by the rest of us.
Ramo found that 80 percent of points in high-level matches between professional players were the result of winning shots and only 20 percent the result of unforced errors by one's opponent.
In contrast, the dynamics of matches between amateurs were reversed. Eighty percent of points came from unforced errors.
An amateur player seldom "beats" an opponent; rather, the player who makes the fewest mistakes, who simply continues to keep the ball in play, usually ends up winning.
From Ramo's perspective, if you want to win at tennis, you have to adjust your strategy to your abilities.
For the "ordinary" tennis player, this means understanding that amateur tennis is a "loser's game" where success comes from avoiding losses.
The point is that most of us are amateurs but we refuse to believe it. This is a problem because we're often playing the game of the professionals. What we should do in this case, when we're the amateur, is to invert the problem and focus on how to win without succeeding:
Rather than trying to win, we should avoid losing.
---
How To Win Without Succeeding By Avoiding Stupidity and Unnecessary Errors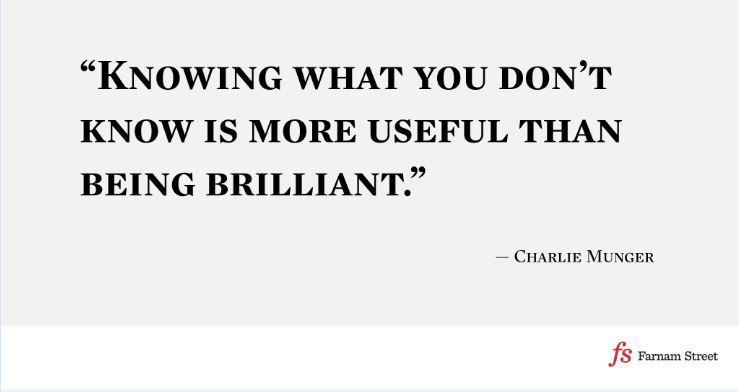 Two examples:
[1] NETWORKING & REFERRALS
Key Point:
Accept that just because someone you know and trust believes something to be true, does not make it so [until corroborated by market data] it just means that they genuinely believe it to be true.
Specifics:
Starting out
Due diligence is the start [and usually the end] of all new relationships.
Knowing the right questions to ask and asking them.
You are only ever as good as the weakest link in your/your buyer/supplier's end–to-end process - a major dependency and one to be identified ASAP.
Ask for and insist on process from the outset – see non-compliance as an early warning signal.
 First impressions
First impressions [instincts & intuitions] can be right.
Don't be over-awed or impressed by wealth, prestige and power.
Don't rely on people's own assessment of their worth – without corroboration from your own direct experience.
Don't rely on someone else's assessment of a person's worth – without corroboration from your own direct experience.
 Developing the relationship
The importance of: good communications, good relationships, controlling emotions and not burning contacts.
You really cannot truly know someone's strengths and weaknesses until you have been in action with them for a long time i.e. 12 months+
Knowledge is subordinate to results.
  Early warning signs
Identify early warning signals of "talk-walk" gap.
Look for early signs of those who "punch above their weight".
Be wary of people who are distrusting and overly protective of disclosure – they are often hiding something and/or untrustworthy.
Ambition in a partner is a good thing but identify early warning signals of people who: "don't know what they don't know, and don't know that they don't know".