How Far Does Science Support The Idea That We Are Living In A Participatory Universe?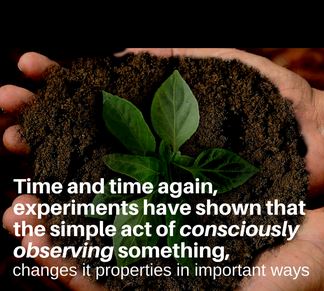 The short answer is: "Quite a long way, but with important caveats!"

As non-scientific lay-people we have to be careful not to infer conclusions that science does not yet support.
For example, and as I understand it, quantum mechanics (at the subatomic level) does state, and now with proof:


• Observer Effect - the act of observation of a particle's path changes the outcome, such that it is not possible to predict the path.

• Quantum Entanglement - the physical phenomenon that occurs when a pair or group of particles in effect "join forces" and "act in the same way as one".

• Quantum Superposition when a group of particles (of any size) "join forces" even when not joined together or are physically separated.
Tests have shown that this can occur at all scales of size i.e. beyond the quantum/subatomic level as a single physical system (or object) – but only as long as the entangled particle(s) are not interacting with their environment e.g. being observed.

• Non Locality - that nothing is independently separate and at some level everything is connected.

• Quantum Decoherence - occurs when a quantum superposition interacts with its environment - for example as a result of observation – and collapses into a single fixed state and thus renders it subject to the "normal" rules of classical physics.
Thus for example a chair in its quantum state only becomes a chair as we see it because we see it.

Therefore the physical world only comes into fixed being through the act of observation via human senses and supporting technology based observation.
Former Apollo 14 astronaut Edgar Mitchell explains how we live in a universe of Matter + Energy + Awareness
---
What Conclusions Can We Draw About Living In A Participatory Universe?
The inescapable conclusion is that the world and the universe (within which we see it positioned) is the result of mind.

This does not suggest individual human mind (in the sense of I see whatever I choose to see) but a collective transpersonal mind – perhaps better described as a cosmic consciousness.

Put simply: there is something out there holding it all together, and I call it "The Energy Of Life "

But we have to be clear that the science does not prove that the law of attraction works nor does it prove that your thoughts have any direct level of control over what happens to you, how it happens or  why it happens. *
But this does not rule out the enormous scope for personal exploration.

The question is no longer whether quantum theory is correct, but what it means.

* Just to be clear, the one thing you can control is how you choose to respond to these events - and that is the overall theme of this site.
---
How To Live In A Participatory Universe
Consciousness Is Now The God In Our Machine
For a wider discussion and deeper analysis of what this may mean, and how to engage with this consciousness, please see Deux Ex Machina.

The Hero's Journey
If you want to skip the bigger picture and dive straight into some suggestions for the practice of living in a participatory universe, please read on:

[1] The starting position of greatest integrity is the one that recognises that the true nature of reality can not be proved.
[2] We will never know the truth - so if you can accept this, then approach your journey as a noetic explorer in an experimental frame of mind and do as I have done:


Be humble and ask the energy of life: