Survivorship Bias
Success Is The Exception Rather Than The Rule
There is a fundamental misunderstanding of cause and effect, and the difference between correlation and causation.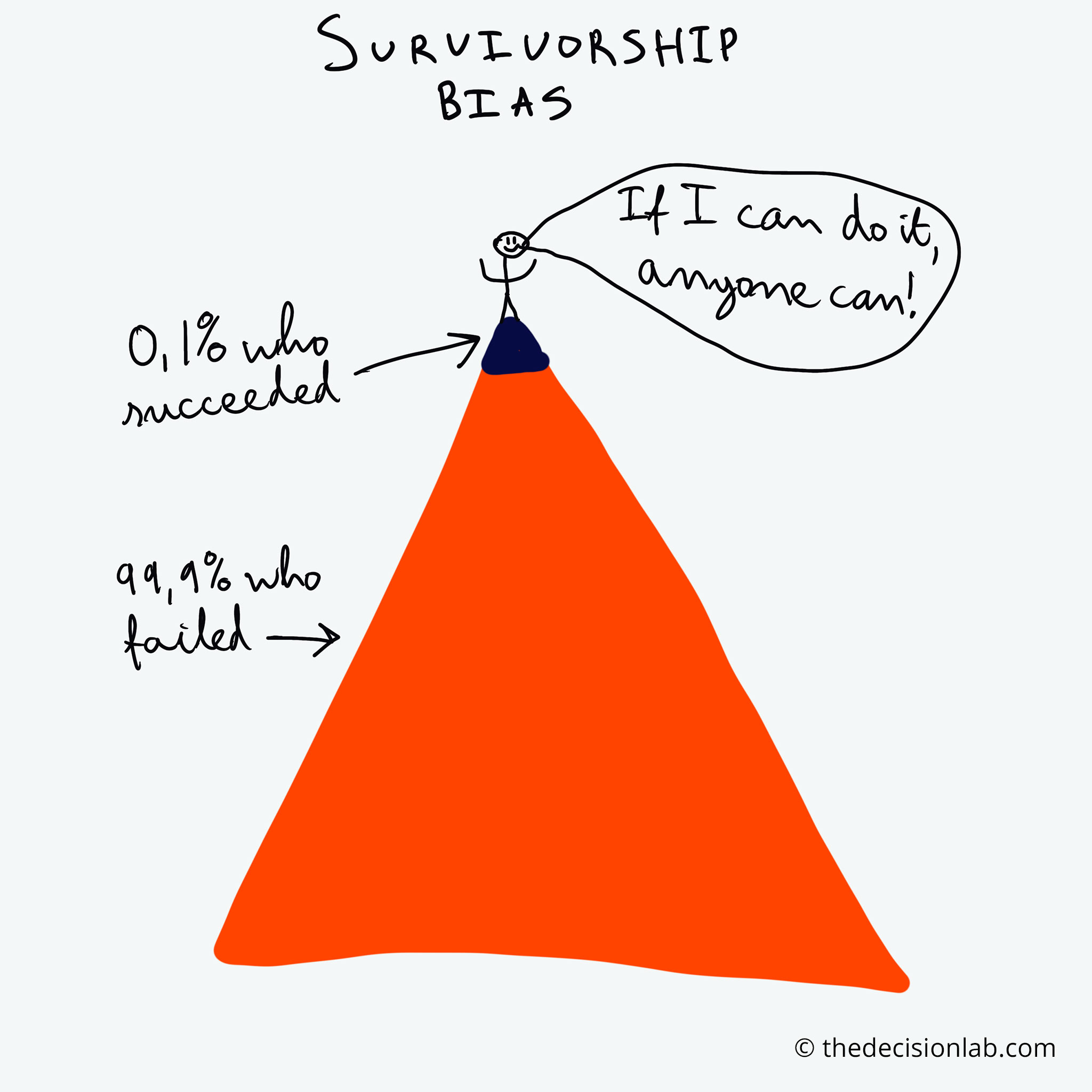 Survivorship Bias - Overview
Survivorship bias is a mental shortcut or heuristic that occurs when a visible successful individual [or subgroup] is mistaken as being representative of the entire group, due to the fact that all of those who failed to succeed are not visible failure and are thus disregarded.
This bias can lead to false conclusions about what it takes to be successful and an overly optimistic belief in your chances of success.

As we noted in Why Embracing Failure And Uncertainty Is The Better Option:
"Numerous studies have been undertaken on successful people to understand what it was that they did to become so successful, how they did it and when they did it - and we are led to believe that we too can achieve comparable success if we replicate this.
This focus on success is very odd given that:

Success is the exception rather than the rule
Winners are outliers – they do not represent the common experience and they do not tell the whole story
Winners are not the norm - failure is the norm and winners are the exception. People like Bill Gates are the outlier, the exception, the anomaly. Modelling yourself on Bill Gates will not make you into a major success."

---
Why it happens?

The Survivorship Bias is a very common cognitive bias, which can be attributed to a fundamental misunderstanding of cause and effect, and specifically with regard to the difference between correlation versus causation.
Causation can be defined as action A causes outcome B.
Correlation is a relationship, thus action A relates to outcome B.

Correlation and causation are often confused because the human mind likes to find patterns even when they do not exist.
We can not assume causation just because we see an apparent connection or link between A and B, such as we see that B follows A or we see A and B simultaneously.
We can only show a causation when we know how it causes B and why it causes B. Following on from we must be able to show how it can be replicated under the same conditions, and is supported with empirical evidence and thus complies with scientific method.
With regard to the Survivorship Bias, just because you can observe a pattern from a dataset, such as several successful entrepreneurs like Bill Gates, Mark Zuckerberg and Elon Musk dropped out of school, does not mean that all successful entrepreneurs drop out of school, or that all those who drop out of school will be successful.
---
How To Avoid Survivorship Bias
Don't ignore the base rate data - that is, the odds of success (or failure) based on prior probabilities. Successful people usually represent a very small subset of all those in their field.
Talk to those at the coal-face or the front line

- the unsung people under-recognised people who are directly involved in whatever field you aim to succeed in can tell you so much more about what's really involved. Seek them out, be humble, ask questions, listen and learn.



---
Resources:
Excellent and comprehensive article from Shane Parrish of Farnam St: Survivorship Bias: The Tale of Forgotten Failures
Another comprehensive and easy to read article from The Decision Lab: Why do we misjudge groups by only looking at specific group members?




---
Return from "Survivorship Bias" to: Cognitive Distortion