Iatrogenics - Do Something Syndrome

Intervention Bias When to Step in and When To Leave Things Alone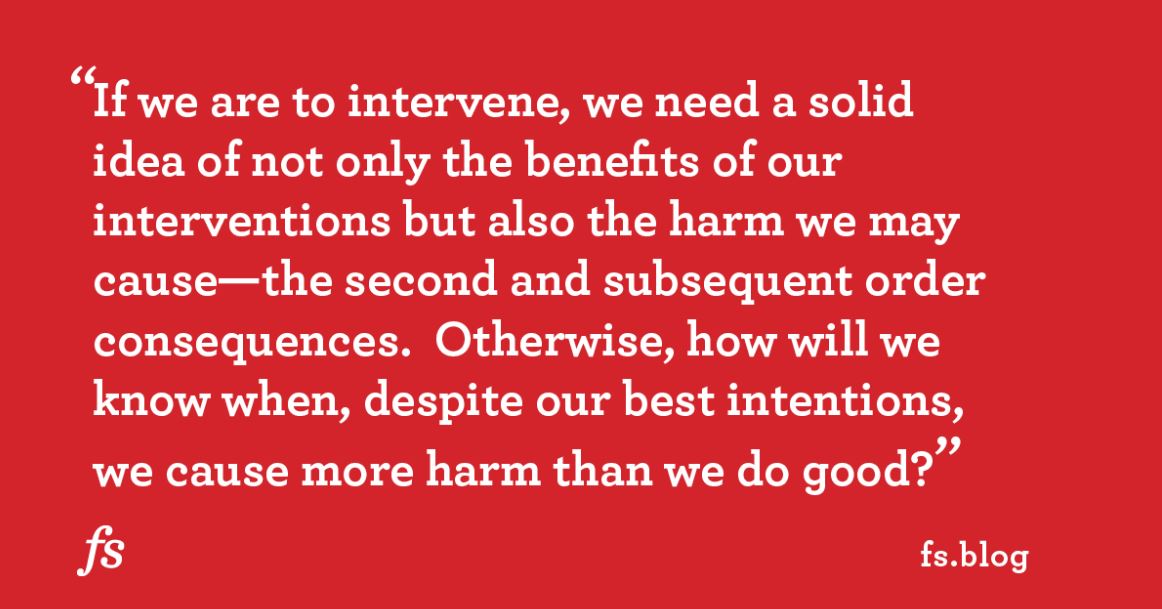 Iatrogenics - Overview
Iatrogenics is a term, drawn from the medical world but now used generically, that refers to any effect resulting from an intervention that causes more harm than gain.

The term is derived from the Greek word "iatros" which means healer and it means "caused by the healer" or "brought by the healer."

Closely related to this is "The Action Bias" which describes a standard human response in situations where the best decision is not clear, and the automatic response is to do something.

We see iatrogenics occurring in the world of politics. The most notable and infamous example of this was the US Government's decisions  [fully supported by the UK Government] to launch military actions in Iraq and Afghanistan.
Every time a social injustice is reported in the media, this is invariably followed by "calls" [aka demands] for action.
At time of writing, here in the UK there is currently a big media focus on what has been termed "the rape culture" which is allegedly prevalent in UK secondary schools [pupils in the age range 11-18] and there have been calls for action.

In the world of business this is also very common and occurs regularly when a new CEO or senior management team take over.

In most of these situations the intentions are positive, and in some cases even honourable and well meant, and the solutions offered might address the immediate [or first-order] presenting issues.
But, all too often, little to no thought has been given to the second and subsequent order consequences [the "knock on effects"] and the end result is that the actions initiated [as so disastrously illustrated with the US interventions in Irag and Afghanistan] cause considerably more harm than the problem they were  intended to solve.

A difficulty with iatrogenics is that the negative effects are delayed, or could be explained by multiple causes, and thus it all to easy for the present political or business leader to claim that "it didn't happen on my watch". 

Intervening when you have no idea of the "break-even" point, where the gain is at least equal to the harm caused, has been described by Nassim Taleb as "naive interventionism."

---
"Failing to consider second, and third-order consequences is the cause of a lot of painfully bad decisions, and it is especially deadly when the first inferior option confirms your own biases.
Never seize on the first available option, no matter how good it seems, before you've asked questions and explored."
[Ray Dalio]
---
Iatrogenics - Why Do Something When Intervention Often Leads to Worse Outcomes?
The overarching drivers that can cause iatrogenics and an action bias are generally thought to be evolutionarily adaptive and thus hardwired in us as a means of survival.

Here are six specific reasons why you will follow that impulse and intervene:

Overconfidence in your ability to predict a favorable outcome.
Your desire to feel in control over your circumstances.

Failure to realize that the second and subsequent order consequences exist at all or could outweigh the benefits.
Distance from the consequences - when there is a time delay between an action and its consequences (feedback) it can be hard to know that you're causing harm.

Wanting to be seen to be doing something. Societal, political and business pressures and the associated expectations make it hard for you to say, "I don't know."
Incentives.  If you  have little to no skin in the game. You win if things go right and suffer no consequences if things go wrong.
How to avoid Iatrogenics

Understand and recognise your impulse to react automatically. A mindful approach will help you do this.

Then, instead of reacting automatically, you consider carefully the consequences of both action and inaction and compare their effectiveness.

Until you have a reasonable measure of clarity about the second and subsequent order consequences you should remain inactive.
---
Return from "Iatrogenics" to: Mental Models