Bridges Transition Model

Change Is External Transition Is Internal
The 3 key Questions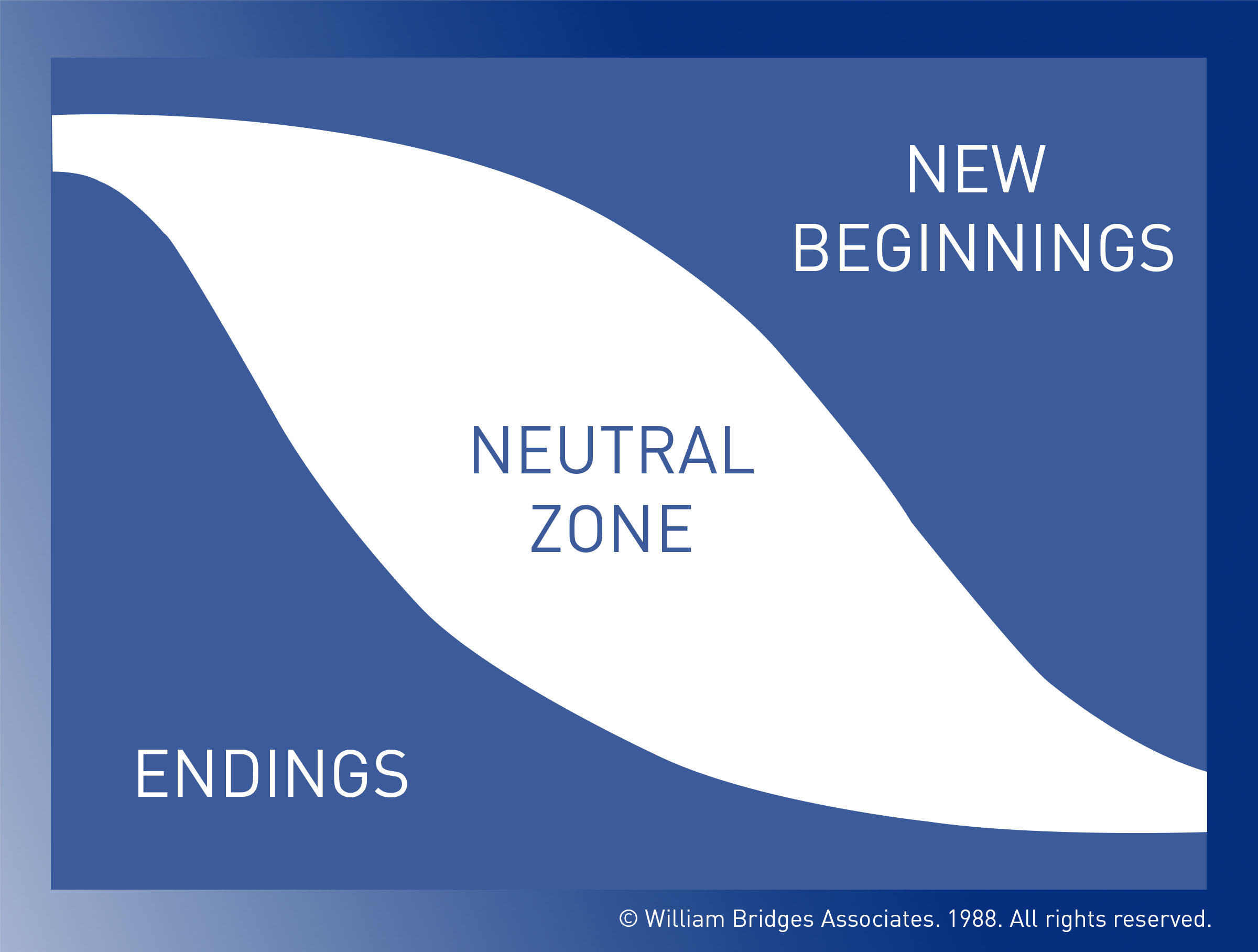 Bridges Transition Model - Introduction
Bridges Transition Model was created by William Bridges (1933–2013) a thought leader, author, speaker and consultant who had a major impact in the way that we think about change.

Bridges pioneering research provided a methodology to guide organizations and individuals through the messy business of change.
Bridges Transition Model applies to change at the individual personal level and also in the context of organisational change.
Transition is different to change

The foundation of Bridges approach is the recognition that transition is different to change.
Change is an external event - it is what happens to you, whereas
Transition is an internal experience - it is how you respond to what happens to you.

Personal change

Transition is the inner psychological process that we go through as we internalize and come to terms with the new situation that the change has imposed upon us.
The starting point for dealing with transition is not the outcome but the endings that we have in leaving the old situation behind.
Organisational change

Change will only be successful if leaders and organizations address the transition that people experience during change.
Supporting people through transition, rather than pushing forward is essential if the change is to work as planned.
This is key to capitalizing on opportunities for innovation and creating organizational resilience.
---
Bridges Transition Model - Navigating The Transitions Of Change
The stress caused by imposed change
In the present climate a lot of stress is caused by change that we do not choose and that is imposed upon us.
This is often related to organisational change and societal change - at the time of writing the impact of Coronavirus during 2020/21.
Bridges transition model focuses on the psychological and emotional impacts, adjustments and changes that we experience when we experience significant change, and change that is imposed upon us.
This can be a life event such as the loss of a loved one, loss of a job and an income, it can be societal change such as we are currently experiencing during the coronavirus pandemic, or it can be an organisational event such as a restructure or closure.

He maintains that the situational changes are not as difficult for companies to make as the psychological transitions of the people impacted by the change.
Bridges Transition Model involves a three-phase process of:
(1) Ending, Losing, Letting Go - helping people deal with their tangible and intangible losses and mentally prepare to move on
Transition starts with an ending.
This is paradoxical but true.
This first phase of transition begins when people identify what they are losing and learn how to manage these losses.
They determine what is over and being left behind, and what they will keep.
These may include relationships, processes, team members or locations.
(2) The Neutral Zone - critical psychological realignments and repatterning takes place. This is all about helping get people through it, and capitalising on all the confusion by encouraging them to be innovators
The second step of transition comes after letting go: the neutral zone.

People go through an in-between time when the old is gone but the new isn't fully operational.

It is when the critical psychological realignments and repatternings take place.

It is the very core of the transition process.

This is the time between the old reality and sense of identity and the new one.

People are creating new processes and learning what their new roles will be.

They are in flux and may feel confusion and distress.

The neutral zone is the seedbed for new beginnings.
(3) The New Beginning - helping people develop the new identity, experience the new energy, and discover the new sense of purpose that make the change begin to work.

Beginnings involve new understandings, values and attitudes.
Beginnings are marked by a release of energy in a new direction – they are an expression of a fresh identity.
Well-managed transitions allow people to establish new roles with an understanding of their purpose, the part they play, and how to contribute and participate most effectively.
As a result, they feel reoriented and renewed.
---
Bridges Transition Model - 3 Key Questions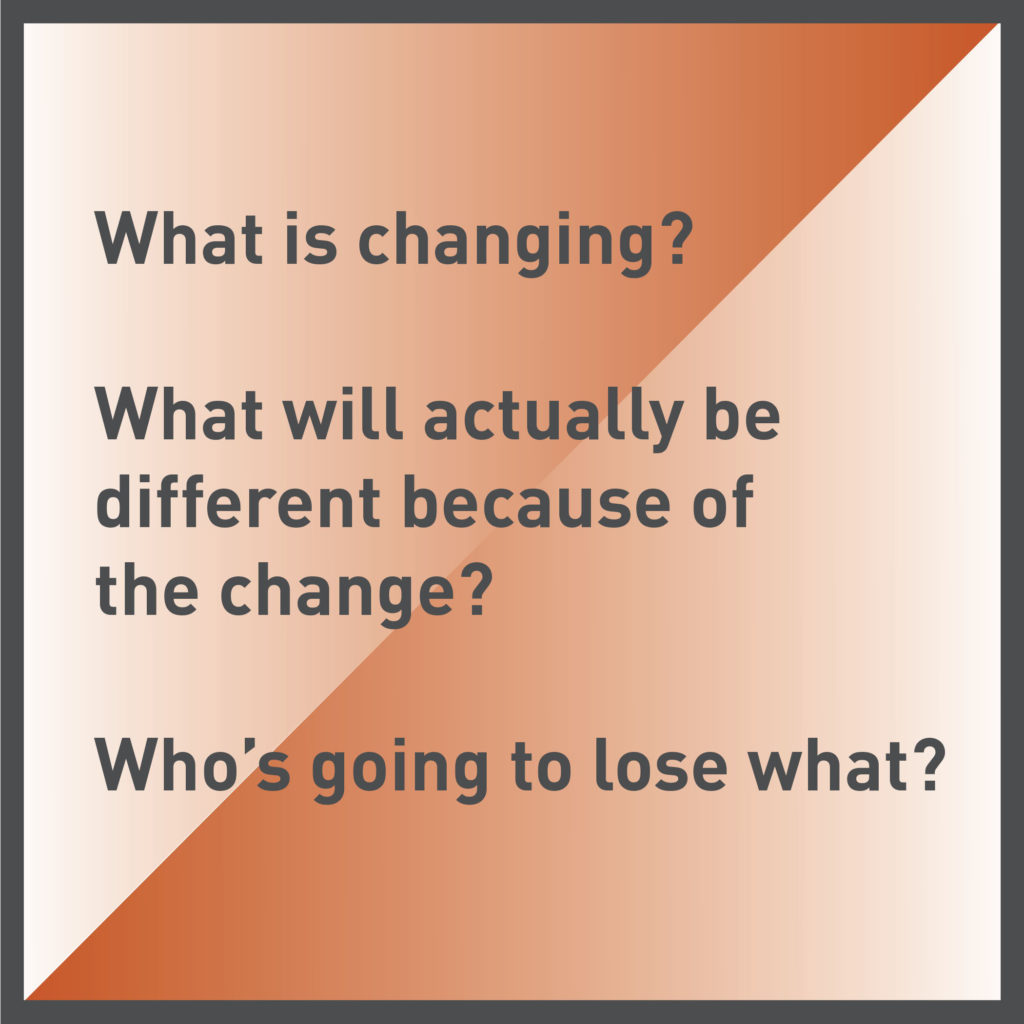 In my past business life, so many times have I asked the question of directors considering some form of change initiative: "Why are you doing it and how will it benefit you and how will you know it's benefited you?" - and got a vague or general answer along the lines of "we'll be... bigger... better... closer to our customers... reduce our costs... etc"
William Bridges said:  "It still surprises me how often organizations undertake changes that no one can describe very clearly."
He poses these 3 simple questions:
(1) What is changing?
So often senior executive convey a very unclear picture of the change and describe it in terms of generalities. Bridges believes that change leaders need to able to express the change in a clear simple statement that can be expressed in under one minute. This way people will obtain a core understanding of what is changing.
William Bridges offers the following guidance - the statement must:
Clearly express the change leader's understanding and intention
Link the change to the drivers that make it necessary
"Sell the problem before you try to sell the solution."
Not use jargon
Be under 60 seconds in duration
(2) What will actually be different because of the change?
William Bridges said: "I go into organizations where a change initiative is well underway, and I ask what will be different when the change is done-and no one can answer the question."
He believed that in many cases, change initiatives were conceived at such a high level in the management structure that the planners are unaware and out of touch with the impacts the change will have - on departments, jobs and individuals:
"A change may seem very important and very real to the leader, but to the people who have to make it work it seems quite abstract and vague until actual differences that it will make begin to become clear... the drive to get those differences clear should be an important priority on the planners' list of things to do."

(3) Who's going to lose what?
Bridges Transition Model recognises the fundamental truth that situational changes are not as difficult for companies to make as the psychological transitions of the people impacted by the change.
He suggested that the transition starts with a loss - a letting go of the old ways of how things were before the change: "...we often say... that you don't cross the line separating change management from transition management until you have asked 'Who will lose [or has lost] what?'"
Transition management is all about seeing the situation through the eyes of the other guy.
It is a perspective based on empathy.
It is management and communication process that recognises and affirms people's realities and works with them to bring them through the transition.
Failure to do this, on the part of change leaders, and a denial of the losses and "lettings go" that people are faced with, sows the seeds of mistrust.
In my view, William Bridges' 3 simple questions are an excellent starting place for addressing the foundational causes of why so many people fail to successfully navigate their way through the transition and in the cases of organisational change why so many change initiatives fail to realise the intended benefits.
---
Bridges Transition Model - Resources
Download Key Points: Bridges - Managing Transitions
William Bridges - Further Reading

Video Series: William Bridges

Transition Readiness Assessment

Further Reading On This Site:
Lost In Transition - Going Round In Circles, Stuck And Lost?
The Wilderness Years - 3 Keys To An Exit

Recognising Limbo As A Stage Of Transition
---

For Organisational Change - Return To: Change Management Theories

For Personal Change - Return To: Managing Personal Change