Emotional Intelligence
Reason Leads To Conclusions, Emotion Leads To Action
Emotions Get In The Way Or Get You On The Way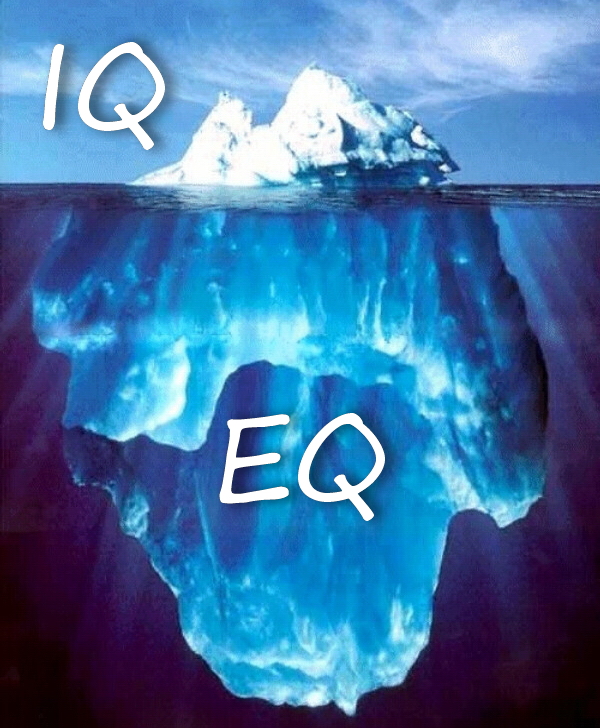 What Is Emotional Intelligence?
The concept of "Emotional Intelligence" also referred to as "Emotional Quotient" [EQ] rose to prominence as a behavioural model with Daniel Goleman's 1995 book of the same name.
The original theory was developed twenty years previously by psychologists Howard Gardner , Peter Salovey and John 'Jack' Mayer.
The EQ model suggests that the conventional measure of intelligence [IQ], is too narrow and that there are wider areas of the emotional dimension that have a significant bearing on how we behave and perform in social and work situations, and thus on our success.
Goleman defines emotional intelligence as:
"The capacity for recognizing our own feelings and those of others, for motivating ourselves, and for managing emotions well in ourselves and in our relationships"
He proposes that this is a learned capability. In other words, unlike the traditional measures of intellectual intelligence which cannot be learned, we can learn, practise and develop competencies that will expand and increase our emotional intelligence.
The 2 key themes
Understanding yourself, your goals, intentions, responses, behaviour and all
Understanding others, and their feelings
Goleman identified five key competencies of EQ as:
Knowing your emotions.
Managing your own emotions.
Motivating yourself.
Recognising and understanding other people's emotions.
Managing relationships, i.e. managing the emotions of others.
---
Emotional Intelligence - Overview by Daniel Goleman
---
Emotional Intelligence - The 5 Competencies
Personal Skills
This is about how we manage ourselves, for example: optimism, persistence in pursuing goals despite obstacles and setbacks
Self-awareness - Knowing one's internal states, preferences, resources and intuitions # Emotional awareness - Recognizing one's emotions and their effects
# Accurate self-assessment - Knowing one's strengths and limits
# Self-confidence - A strong sense of one's self-worth and capabilities
Self-regulation - Managing one's internal impulses and resources # Self-Control - Keeping disruptive emotions and impulses in check
# Trustworthiness - Maintaining standards of honesty and integrity
# Conscientiousness - Taking the responsibility for personal performance
# Adaptability - Flexibility in handling change
# Innovation - Being comfortable with novel ideas, approaches, and new information
Motivation - Emotional tendencies that guide or facilitate reaching goals # Achievement drive - Striving to improve or meet a standard of excellence
# Commitment - Aligning with goals of the group or organization
# Initiative - Readiness to act on opportunities
Social skills
This is about how how we manage relationships, for example:team capabilities, creating group synergy in pursuing collective goals
Empathy - Awareness of other's feelings, needs, and concerns # Understanding others Sensing others' feelings and perspectives, and taking active interest in their concerns
# Developing others - Sensing others' development needs and bolstering their abilities
# Service orientation - Anticipating, recognizing, and meeting customers' needs
# Leveraging diversity - Cultivating opportunities through different kinds of people
# Political awareness - Reading a group's emotional currents and power relationships
Social Skills - Adeptness and inducing desirable responses in others # Influence - Wielding effective tactics for persuasion
# Communication - Listening openly and sending convincing messages
# Conflict management - Negotiating and resolving disagreements
# Leadership - Inspiring and guiding individuals and groups
# Change catalyst - Initiating or managing change
# Building bonds - Nurturing instrumental relationships
# Collaboration & cooperation - Working with others toward shared goals
---
How To Use Emotional Intelligence
Emotional intelligence can be applied in many different areas of your life, and it will include some of the following behaviours:
Accepting criticism and responsibility
Not dwelling on mistakes and failures and moving on

Saying No when it is appropriate and you need to

Appropriately displaying empathy and sharing your feelings

Building win-win solutions that benefit all parties

Listening mindfully

Self knowledge about your own motives and drivers

Non judgemental in your assessments of others' behaviours
The 7 Habits Of Emotionally Intelligent People

---
Resources
Emotional Intelligence - Review [slide presentation]
Emotional Intelligence - Assessments

Emotional Intelligence - Book Review
---
Return to: Managing Personal Change