Myers Briggs INTP
The Thinker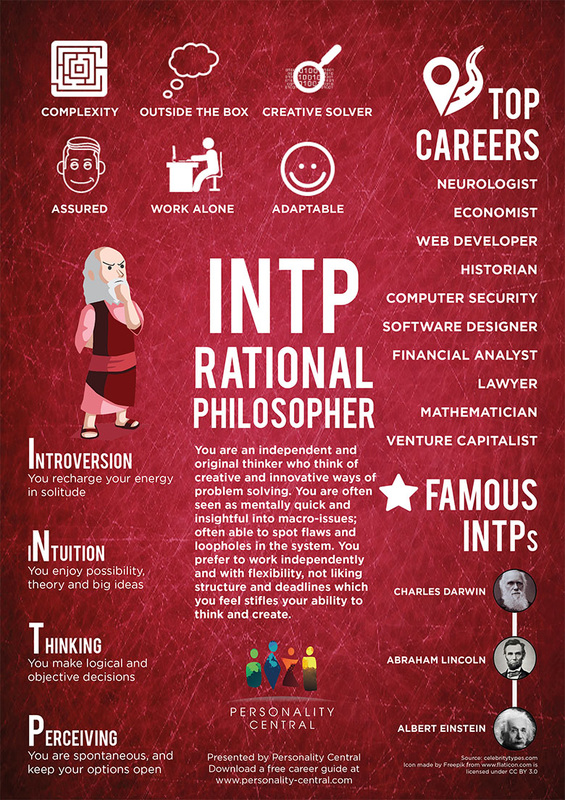 ---
Myers Briggs INTP - Summary
Seek to develop logical explanations for everything that interests them.
Theoretical and abstract, interested more in ideas than in social interaction.
Quiet, contained, flexible and adaptable.
Have unusual ability to focus in depth to solve problems in their area of interest.
Sceptical, sometimes critical, always practical.
---
Myers Briggs INTP - Characteristics
Myers Briggs INTPs are quiet, thoughtful, analytical individuals who tend to spend long periods of time on their own, working through problems and forming solutions.
They are curious about systems and how things work. Consequently, they are frequently found in careers such as science, architecture, and law.
INTPs tend to be less at ease in social situations or in the "caring professions," although they enjoy the company of those who share their interests. They also tend to be impatient with the bureaucracy, rigid hierarchies, and the politics prevalent in many professions. They prefer to work informally with others as equals.
They organise their understanding of any topic by articulating principles, and they are especially drawn to theoretical constructs. Having articulated these principles for themselves, they can demonstrate remarkable skill in explaining complex ideas to others in simple terms, especially in writing.
On the other hand, their ability to grasp complexity may also lead them to provide overly detailed explanations of "simple" ideas, and listeners may judge that they make things more difficult than they are. To them, however, this is incomprehensible: They are merely presenting all the information.
Given their independent nature, they may prefer working alone to leading or following in a group. During interactions with others, if they are focused on gathering information, they may seem oblivious, aloof, or even rebellious—when in fact they are concentrating on listening and understanding.
However, their extraverted intuition often gives them a quick wit, especially with language. They may defuse tension through comical observations and references. They can be charming, even in their quiet reserve, and are sometimes surprised by the high esteem in which their friends and colleagues hold them.
When they feel insulted, however, they may respond with sudden, cutting criticism. After such an incident, INTPs are likely to be as bewildered as the recipient. They have broken the rules of debate and exposed their raw emotions. To them, this is the crux of the problem: emotions must be dealt with logically—because improperly handled emotions, they believe, can only harm.
---
Take the Myers Briggs Test  [Note: This currently costs $49.99]

Return to main page: Myers Briggs Type Indicators